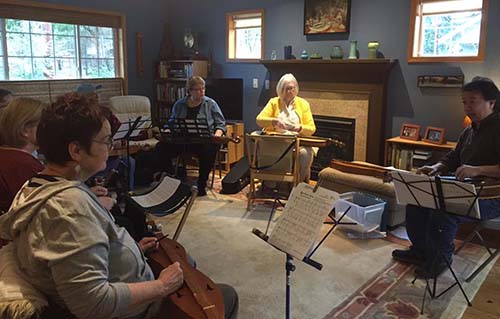 Group Workshops I offer
Intro to Mountain Dulcimer
Learn the basic to dulcimer, from how to hold a pick to playing melody, playing and singing with chords.
Singing with the dulcimer
Learn to sing your favorite songs with the dulcimer.
Do more with Chords
Learn the many ways to play chords on the dulcimer for singing, playing backup, create simple harmony in an ensemble setting.
How to Play dulcimer with other Instruments
The dulcimer have a unique voice, learn how to blend this unique voice with other instruments like guitar, mandolin, violin, ukulele etc.
Dulcimer Ensemble
Come learn to play dulcimer in an ensemble setting where multiple harmony arrangements can turn a single folk tune into an orchestral musical experience. In this workshop we will play dulcimer in 3-4 part dulcimer arrangements. Soprano and bass dulcimers will be available for anyone who would like to play the high or low harmonies.
Bluegrass Dulcimer
Yes, you can play your dulcimer at a bluegrass jam! Come learn a few bluegrass tricks on the dulcimer—from how to play bluegrass backup with bar chords, to playing in other keys besides D, to the basics of playing bluegrass solos.
Tunes from the 50s
From Nat King Cole to Doris Day to Frank Sinatra, learn to play some of your favorite tunes from the 1950s on your dulcimer
Tunes from Musicals for Dulcimer
Learn to play a jazzier side of your dulcimer with popular tunes from musicals. We'll be playing tunes from Fiddler on the Roof, West Side Story, Hair, Sound of Music, and more.
Tunes from Movies for Dulcimer
Learn to play some popular movie tunes from Wizard of Oz, to Ghost, Harold and Maude and more.