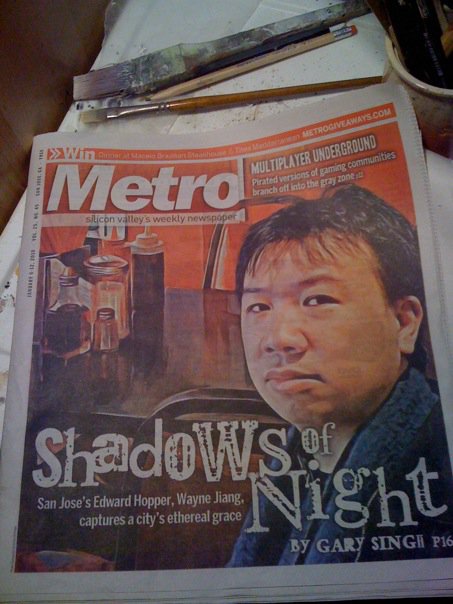 Metro, Silicon Valley's Weekly Newspaper



Canvas Noir


Local artist Wayne Jiang captures the solitude of San Jose by night in his evocative paintings
January 5, 2010 - by Gary Singh
"FROM INSIDE the main corridor at Alameda Artworks Studios, artist Wayne Jiang is pointing toward the open doorway, through which we can see the setting sun. Outside, across the narrow parking lot and behind a squat chain-link fence, sits Park Avenue Preschool, which isn't actually located on Park Avenue.
Both the preschool and Alameda Artworks Studios sit on The Alameda, just off Race Street, separated by this parking lot we're gazing across from the studio hallway. Next to the preschool are a playhouse, a jungle gym and a toy sports car popular with the kids.
Off in the distance, we see the tops of the palm trees that characterize the Shasta-Hanchett neighborhood. Immediately in front of us, an exit sign appears at the upper left of the doorway, leading into the parking lot.
Using acrylics, Jiang once painted this exact scene and called it Exit to ... . I feel like I'm in the painting itself "
From San Jose Inside, Posted by Jack Van Zandt, December 02, 2009

"The combining of a classical Chinese aesthetic with the style and techniques of the Dutch Masters might seem an odd juxtaposition at first, but, in fact, it makes perfect sense when you see it through Jiang's eyes. If, for instance, you consider the very small extant body of work by Johannes Vermeer, the majority of his 30-plus masterpieces evoke a Zen-like stillness, as if a small, insignificant, single gesture were to be infinitely slowed to a blink-of-the-eye split-second of midmotion frozen in time forever. This, in effect, is what one sees in a myriad of Chinese and other Asian artworks going back for centuries. Then there is the matter of how seemingly insignificant objects from daily life become emblems of importance in both traditions. These interesting convergences, and others like them, are what I see in every one of Jiang's paintings."

Read entire article
From Artweek, March 2001
"Last year, a friend of mine took a series of photos of his acquaintances, having them choose which locales they wanted to be pictured in. He wanted these settings to convey something about the personalities of his subjects. One person chose his favorite piano bar, another her favorite beach, another his home. The painter Wayne Jiang undertakes a similar examination of the relationship between the figure and the environment in his portraits of friends and acquaintances. His dramatically cropped compositions contain carefully arranged elements specifically chosen to tell a story about the person in the picture. A girlfriend might be portrayed in front of a lake, the shimmering surface of the water forming a serene frame for her profile; a grandmother might be depicted in her home, attending to her lifelong task of performing the daily household chores; other female family members might be pictured in the kitchen, in the midst of spontaneous acts of culinary creation.
Jiang's latest exhibition at d.p. Fong Galleries includes a series of small portraits painted on wooden panels. The images function as snapshot-sized studies of the people who play a significant role in the artist's life."
Berin Golonu
From Metro, Silicon Valley's Weekly Newspaper, October 19-25, 2000

"Jiang, whose eloquent political portraits are as wonderfully crafted as they are passionately felt. Jiang's exactingly painted
panels display adventurous formats ranging from tiny, 2-inch-square miniatures--some as supple as Van Eyck's--to a compelling jungle 7 inches high and 3 feet wide. His omnivorous eye addresses a young blonde woman, black athletes and aging Asians tending verdant gardens. Jiang's close study of Wyeth is handsomely in evidence in a thoughtful study titled Breezeway.
The brilliant work of Wayne Jiang offers refreshingly unforced avenues to multicultural awareness"
Christina Waters
Sing Tao Daily October. 10, 2009: Download Hi Res JPG
Dirty Palette. September 2009: Download Hi Res JPG
Pacifica Tribune. September, 2009: Download Hi Res JPG
The Sacramento Bee. January 16, 2009: Download Hi Res JPG
Rose Garden Resident. February 6, 2002: Download Hi Res JPG: page 1, page 2, page 3
Artweek. February 13, 2000: Download Hi Res JPG
Metro. October 15, 2000: Download Hi Res JPG
Artist Statements Articles and Reviews Press Kit Artist Biography