Private mountain dulcimer lessons in the Woodstock neighborhood in SE Portland
I've been playing the mountain dulcimer for more than 15 years. I started playing in early 2002 as a relaxation activity. The mountain dulcimer became a personal passion. Today, I'm not just an avid mountain dulcimer player, but I also build and teach dulcimer. Along with my wife Patricia Delich, we created the documentary film Hearts of the Dulcimer. We're currently producing a podcast about the mountain dulcimer also called Hearts of the Dulcimer.
I offer beginning to intermediate private mountain dulcimer lessons in the Woodstock neighborhood in SE Portland.
No previous music experience is required. I can help you learn to play music even if you've never touched a musical instrument in your life. Students learn a variety of ways to play the dulcimer from playing solo instrumental to singing with the dulcimer to ensemble playing with other dulcimers or other instruments.
I teach a variety of genres and traditions from American folk tunes to popular tunes like Over the Rainbow and Ripple, to rock and jazz tunes like Looking Out My Back Door and Georgia on My Mind, to old time fiddle tunes to traditional aires from Ireland and the British Isles. Many of the arrangements I teach are written by me since dulcimer arrangements for pop, rock, and jazz tunes are hard to find.
Private lessons are $35 for 60 minutes. The first lesson includes a free instrument setup to help make your instrument more playable. This may include new strings replacement, action adjustment, and tuner adjustment.
Loaner dulcimers are available with a deposit.
To inquire about private mountain dulcimer lessons please email me at:

wayne@dulcimuse.com
Upcoming Dulcimer Workshops in Portland with Wayne Jiang and Special Guest Teacher Joellen Lapidus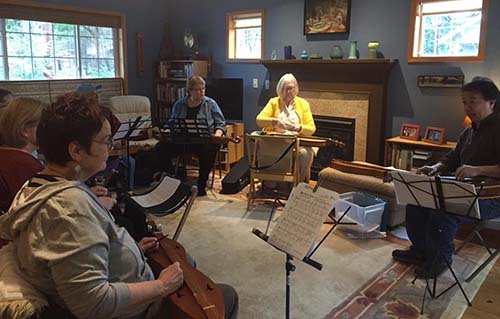 2017 Workshops

Saturday, May 13: Dulcimer Ensemble
Come learn to play dulcimer in an ensemble setting where multiple harmony arrangements can turn a single folk tune into an orchestral musical experience. In this workshop we will play dulcimer in 3-4 part dulcimer arrangements. Soprano and bass dulcimers will be available for anyone who would like to play the high or low harmonies.

Saturday, June 10: Bluegrass Dulcimer
Yes, you can play your dulcimer at a bluegrass jam! Come learn a few bluegrass tricks on the dulcimer—from how to play bluegrass backup with bar chords, to playing in other keys besides D, to the basics of playing bluegrass solos.

Saturday, July 15: Tunes from the 50s
From Nat King Cole to Doris Day to Frank Sinatra, learn to play some of your favorite tunes from the 1950s on your dulcimer

Saturday, August 19: A Special Strumming Workshop with Joellen Lapidus
Joellen Lapidus is one of the pioneers of contemporary fretted dulcimer playing, songwriting, and instrument building. Blending Appalachian, Indian, Arabic, jazz, classical, and pop musical styles, Joellen gives the dulcimer a new range of rhythmic, melodic, and tuning possibilities. Spice up your dulcimer playing and learn some of Joellen's unique strumming styles in this special one-day workshop. Find out more about Joellen: www.lapidusmusic.com Joellen's workshop is limited to 10 people.
$30 per person, payable to Joellen Lapidus on the day of the workshop. This workshop does not count towards a multiple workshop discount.

Saturday, September 30: Tunes from Musicals for Dulcimer
Learn to play a jazzier side of your dulcimer with popular tunes from musicals. We'll be playing tunes from Fiddler on the Roof, West Side Story, Hair, Sound of Music, and more.

Saturday, October 28: Tunes from Movies for Dulcimer
Learn to play some popular movie tunes from Wizard of Oz, to Ghost, Harold and Maude and more.

To RSVP, send an email to wayne@dulcimuse.com

Dulcimer Tab Arrangements by Wayne Jiang

DAD Tunes:



Boil Them Cabbage Down (with low and high harmonies)
Boil Them Cabbage Down (complex)

Old Joe Clark (melody only)
Old Joe Clark (chord melody)

Angeline the Baker (with low harmony)

Aura Lee (with 2 harmonies)

Ode to Joy (with high and low harmonies)
Ode to Joy (melody only)

Five Hundred Miles

Morning Has Broken (DAD & DGD)

Going Down the Road Feeling Bad

Dink's Song aka Noah's Dove, theme song from Inside Llewyn Davis

DGD Tunes:



Morning Has Broken (DAD & DGD)

Videos

Have Yourself a Merry Little Christmas


My arrangment of the Christmas classic. Played in DGD tuning.

White Christmas

My arrangment of the Irving Berlin classic. Played in DAD tuning with 1.5 fret.

Mister Sandman

This is my fingerpicking arrangement of the 1950's classic "Mister Sandman" on Mountain Dulcimer. I'm playing a Simerman dulcimer in FAC, the 1-3-5 tuning. Special thanks to Rob Brereton who introduced this tuning to me. This is one of the tunes I teach in my "Tunes from the 50s fro Dulcimer"

Crazy


This is my arrangement of Willie Nelson's song "Crazy" on Mountain Dulcimer. I'm playing a Simerman dulcimer with the 0.5 and 1.5 fret.

Planxty Fanny Power

One of my favorite from the Irish harpist and composer, Turlough O'Carolan.

Morning Has Broken on my CapriTaurus dulcimer custom built for me by Howard Rugg. It's my own arrangement in DGD tuning





My own arrangement in DGD tuning

Wayne's dulcimer arrangments list
By Tuning

DAD tuning



Across the Great Divide
(key of G capo to 3rd fret)
All I have to Do is Dream
Aloha Oe
Angline the Baker
Amelia
Ashokah Farewell
Au Lang Syne
Aura Lee
Basin Street Blue

Beautiful Brown Eyes
Bile Them Cabbage Down
Black Magic Woman ( capo to 1st fret)
Blowin' In The Wind
Blue Skies
By The Light Of The Slivery Moon
Colman's Waltz
Darling Clementine
Dink's Song
Down In the Valle
Edelweiss
Faded Love
Farewell Angelina
Five Hundred Miles
Freight Train
Georgia On My Mind
Ghost Rider in the Sky ( in Bm or Em )
Going Down the Road Felling Bad
Greensleeves
Happy Birthday to You
Have You Ever Seen the Rain
Have Yourself a Merry Little Christmas
Hewlett
Hobo's Lullaby
House the Raising Sun (DAD capo 1)
I Never Will Marry

I Walk The Line
I Will
I'm Sitting on Top of the World

If I had a Hammer
If You want to Sing Out Sing Out
June Apple
Let It Be
Little Birdie
Liza Jane
Looking Out My Back Door
Lover's Waltz
Memories are Made of These
Midnight on the Water
Morning Has Broken
Mr. Bojangles

My Blue Heaven
Octopuss Garden
Ode to Joy
Oh Susanna
Oh What a Beautiful Morning
Old Joe Clark
Ook Pik Waltz (DAD in key of G capo to 3rd fret)
Planxty Fanny Power
Pretty Saro
Que Sera, Sera
Railroad Bill
Ripple
Rock the Cradle Lucy
Road to Boston
Roll in My Sweet Baby's Arm
Scarborough Fair
Shady Grove(capo to 1st fret)
Shalom Chaverim Grove(capo to 1st fret)

Snow Deer
Skye Boat Song
Solider's Joy
Sound of Slience
Sourdough
Southwind
St Anne's Reel
St. James Infirmary (DAD capo to 1st fret)
Summertime (DAD capo to 1st fret)
Tamo Daleko (DAD capo to 1st fret)
The Rose
The Sloop John B
The Wind Beneath My Wings
Trouble in Mind
Turn Around
Unchained Melody
Water is Wide
We Shall Over Come
Wesphalia Waltz (in key of G capo to 3rd fret)
When I Fall In Love
Wild Mountain Thyme
Will the Circle Won't Be Broken
With a Little Help from Our Friends
You are My Sunshine

In DGD tuning

Beautiful Dreamer

We Shall Over Come

Try to Remember

The Girl I left behind me

Shenandoah

Over the Rainbow

I Will

Morning Has Broken

Mr. Bojangles

Getting to Know You

Down By the Salley Garden

Edelweiss

Tennessee Waltz

In DAD tuning with 0.5 and 1.5 fret

All of Me

Blue Skies

By The Light Of The Slivery Moon

Crazy

In DAD tuning with 1.5 fret

Are You Lonesome Tonight? (in key of G)

White Christmas

Wesphalia Waltz (in key of G)

Trouble in Mind

Birmingham Sunday

Blue Hawaii ( in key of G)

Josephine's Waltz ( in key of G)

I'm Sitting on Top of the World

In DAD tuning with Chromatic Dulcimer

Waltzin' to Mongolia

Flatbush Waltz (DAD or DGD)
I Left My Heart in San Francisco

In DAC tuning

Sunrise Sunset

In FAC tuning

I Left My Heart in San Francisco

Carolina Moon

Mister Sandman

With 3 part harmonies
Angleline the Baker
Aura Lee
Bile Them Cabbage Down
Down In the Valley
I Never Will Marry
Ode to Joy
Southwind

By Genre and Artist




1950's
All I have to Do is Dream
Memories are Made of These

1960's Folk Revival
Five Hundred Miles
Freight Train


Balkan
Tamo Daleko (DAD capo to 1st fret)

Beatles
I Will
Let It Be
Octopuss Garden

With a Little Help from Our Friends

Blues
Basin Street Blues
I'm Sitting on Top of the World
Trouble in Mind
St. James Infirmary (capo to 1st fret)

Blue Grass

Little Birdie
Roll in My Sweet Baby's Arm
Will the Circle Won't Be Broken

Bob Dylan
Blowin' In The Wind
Farewell Angelina


Cat Stevens
If You want to Sing Out Sing Out

Country
Faded Love
Ghost Rider in the Sky ( in Bm or Em )
Tennessee Waltz
Crazy

I Walk The Line

Creedence Clearwater Revival
Have You Ever Seen the Rain
Looking Out My Back Door

Elvis Presley

Are You Lonesome Tonight? (in key of G)
Blue Hawaii ( in key of G)

Fiddle Tune
Angline the Baker
Amelia
Ashokah Farewell


Bile Them Cabbage Down
Colman's Waltz
Lover's Waltz
Old Joe Clark
Ook Pik Waltz (in key of G capo to 3rd fret)
June Apple
Liza Jane

Snow Deer
Solider's Joy
Wesphalia Waltz (in key of G capo to 3rd fret)
Midnight on the Water

Rock the Cradle Lucy
Road to Boston

St Anne's Reel
The Girl I left behind me
Josephine's Waltz ( in key of G)


Grateful Dead
Ripple





Hawaiian
Aloha Oe

Irish

Hewlett
Planxty Fanny Power
Southwind


Down By the Salley Garden

Jazz
Basin Street Blue
Blue Skies
By The Light Of The Slivery Moon

Georgia On My Mind
Blue Skies

All of Me

By The Light Of The Slivery Moon

Crazy

I Left My Heart in San Francisco

Carolina Moon

Mister Sandman

Klezmer/Jewish

Flatbush Waltz (DAD or DGD)
Shalom Chaverim Grove(capo to 1st fret)

Movies
Que Sera, Sera
Unchained Melody
The Rose
The Wind Beneath My Wings
When I Fall In Love


White Christmas


Musical
Edelweiss
Have Yourself a Merry Little Christmas
Oh What a Beautiful Morning
Summertime (DAD capo to 1st fret)
Over the Rainbow


Getting to Know You
Sunrise, Sunset




Paul Simon
Sound of Slience




Russian

Waltzin' to Mongolia


Santana
Black Magic Woman (capo to 1st fret)

Stephen Foster
Beautiful Dreamer
Oh Susanna


Traditonal American


Aura Lee
Dink's Song
Down In the Valley
Darling Clementine
Going Down the Road Feeling Bad
House the Raising Sun (capo to 1st fret)
I Never Will Marry
Little Birdie
The Sloop John B


Pretty Saro
Railroad Bill
Shady Grove(capo to 1st fret)
Shenandoah

Beautiful Brown Eyes

Traditional British Isles

Au Lang Syne
Greensleeves
Water is Wide
Morning Has Broken
Scarborough Fair
Skye Boat Song
Wild Mountain Thyme



Kate Wolf


Across the Great Divide
(key of G capo to 3rd fret)


Misc.

Happy Birthday to You
Mr. Bojangles
Ode to Joy
Hobo's Lullaby

If I Had a Hammer

Sourdough
Turn Around
We Shall Over Come
Try to Remember
You are My Sunshine

Mr. Bojangles

Birmingham Sunday

My Blue Heaven