Private mountain dulcimer lessons in the Woodstock neighborhood in SE Portland
I've been playing the mountain dulcimer for more than 15 years. I started playing in early 2002 as a relaxation activity. The mountain dulcimer became a personal passion. Today, I'm not just an avid mountain dulcimer player, but I also build and teach dulcimer. Along with my wife Patricia Delich, we created the documentary film Hearts of the Dulcimer. We're currently producing a podcast about the mountain dulcimer also called Hearts of the Dulcimer.
I offer beginning to intermediate private mountain dulcimer lessons in the Woodstock neighborhood in SE Portland.
No previous music experience is required. I can help you learn to play music even if you've never touched a musical instrument in your life. Students learn a variety of ways to play the dulcimer from playing solo instrumental to singing with the dulcimer to ensemble playing with other dulcimers or other instruments.
I teach a variety of genres and traditions from American folk tunes to popular tunes like Over the Rainbow and Ripple, to rock and jazz tunes like Looking Out My Back Door and Georgia on My Mind, to old time fiddle tunes to traditional aires from Ireland and the British Isles. Many of the arrangements I teach are written by me since dulcimer arrangements for pop, rock, and jazz tunes are hard to find.
Private lessons are $30 for 45 minutes. The first lesson includes a free instrument setup to help make your instrument more playable. This may include new strings replacement, action adjustment, and tuner adjustment.
Loaner dulcimers are available with a deposit.
To inquire about private mountain dulcimer lessons please email me at:

wayne@dulcimuse.com
Upcoming Dulcimer Workshops in Portland with Wayne Jiang and Special Guest Teacher Joellen Lapidus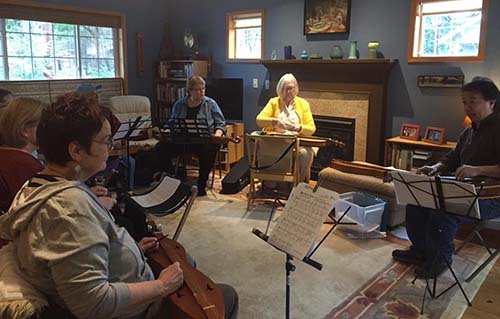 Each Wayne Jiang workshop is limited to 6 people. Cost is $25 per person per workshop for early sign up (payment due two weeks in advance), $30 for late sign up. Discount is given for signing up for any three workshops given by Wayne ($60 total).
Saturday, May 13: Dulcimer Ensemble
Come learn to play dulcimer in an ensemble setting where multiple harmony arrangements can turn a single folk tune into an orchestral musical experience. In this workshop we will play dulcimer in 3-4 part dulcimer arrangements. Soprano and bass dulcimers will be available for anyone who would like to play the high or low harmonies.
Saturday, June 10: Bluegrass Dulcimer
Yes, you can play your dulcimer at a bluegrass jam! Come learn a few bluegrass tricks on the dulcimer—from how to play bluegrass backup with bar chords, to playing in other keys besides D, to the basics of playing bluegrass solos.
Saturday, July 15: Tunes from the 50s
From Nat King Cole to Doris Day to Frank Sinatra, learn to play some of your favorite tunes from the 1950s on your dulcimer
Saturday, August 19: A Special Strumming Workshop with Joellen Lapidus
Joellen Lapidus is one of the pioneers of contemporary fretted dulcimer playing, songwriting, and instrument building. Blending Appalachian, Indian, Arabic, jazz, classical, and pop musical styles, Joellen gives the dulcimer a new range of rhythmic, melodic, and tuning possibilities. Spice up your dulcimer playing and learn some of Joellen's unique strumming styles in this special one-day workshop. Find out more about Joellen: www.lapidusmusic.com Joellen's workshop is limited to 10 people.
$30 per person, payable to Joellen Lapidus on the day of the workshop. This workshop does not count towards a multiple workshop discount.
Saturday, September 30: Tunes from Musicals for Dulcimer
Learn to play a jazzier side of your dulcimer with popular tunes from musicals. We'll be playing tunes from Fiddler on the Roof, West Side Story, Hair, Sound of Music, and more.
Saturday, October 28: Tunes from Movies for Dulcimer
Learn to play some popular movie tunes from Wizard of Oz, to Ghost, Harold and Maude and more.
To RSVP, send an email to wayne@dulcimuse.com
Dulcimer Tab Arrangements by Wayne Jiang
DAD Tunes:


Boil Them Cabbage Down (with low and high harmonies)
Boil Them Cabbage Down (complex)

Old Joe Clark (melody only)
Old Joe Clark (chord melody)

Angeline the Baker (with low harmony)
Aura Lee (with 2 harmonies)

Ode to Joy (with high and low harmonies)
Ode to Joy (melody only)

Five Hundred Miles
Morning Has Broken (DAD & DGD)

Going Down the Road Feeling Bad
Dink's Song aka Noah's Dove, theme song from Inside Llewyn Davis
DGD Tunes:


Morning Has Broken (DAD & DGD)
Videos