Workshop Objectives
Learn to painting acrylic in layers (the technique of the old Dutch Masters)
Learn how to create rich tones with a limited color palette
Learn the color theory behind old master paintings from the Baroque era (Vermeer, Rembrant, Rubens etc.)
Transition to acrylic from watercolor or oil
Understand the advantages of acrylic while avoiding its shortcoming
Approach acrylic painting from realism to plein air to abstract
Understand what material to buy when painting in acrylic
How to prepare a variety of surfaces for acrylic painting
Learn layering and glazing in acrylic
Combining opaque and transparent painting
Create subtle color tones with layering
Create translucent colors with glazing
Additional instruction for repeat and advanced participants
Planning strategies for better results and less time
How to mix colors to create moods
How to paint like your favorite oil painter using acrylic
Strategies for creating better compositions
How to adopt the acrylic glazing and layering techniques to your own style and subject matter
Participants will be provided with a bound illustrated booklet containing step-by-step instructions and many practical tips.
Course Duration varies:
4 days, 6-7 hours per day
or
3 days, 7-8 hours per day
or
short workshop 2 days, 6-7 hours per day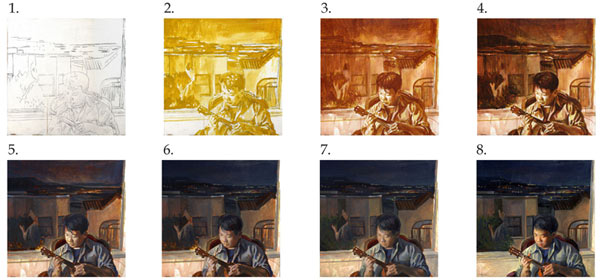 Materials list

Bring the following to the workshop:
A table top or regular easel (a table top easel will be provided for Pacifica workshops)
Water spray bottle
Assortment of rounded brushes: #0, #2, #4, #8
2-3 stretched canvases, your choice of width and height between 10"-18"
Bring the following acrylic colors in a tube or jar
Titanium White
Yellow Ochre
Burnt Sienna
Burnt Umber
Ultramarine Blue
Gloss Medium
Optional colors:

Cadmium Yellow, Cadmium Red, Mars Black, Permanent Green, Phthalocyanine Blue, Matte Medium
All material will be inlcuded when workshop is Wayne's Portland home studio.
Who should attend the workshop
Watercolorists or oil painters who want to "flirt with" acrylic
Painters of all skill levels
Anyone wanting to learn Wayne's acrylic glazing and layering techniques
Anyone wanting to improve color mixing skills
For a materials fee of $25, you will receive what you need to get started in painting: brushes, paint, gessoed panel or canvas, and more.
Workshop Fee: $200-$375 depending on class duration, size, and location
Cancellation policy at Wayne's Portland Studio,
If you need to cancel, notification must be given at least one week prior to the class start date regardless if payment has been sent.

No refunds are given once the workshop starts. If you need to miss a workshop day, you may make up the missing day in any of Wayne's future Sanchez Studio workshops within 6 months.

If the workshop is canceled or rescheduled, you will receive an email notification no later than 48 hours prior to the beginning of the workshop. Payments will be refunded.
Artworks created by past workshop participants